Business Brokers in Winston-Salem

Are you looking to buy a business in the Triad area of North Carolina? Maybe you're already a business owner and are looking for the best way to sell your business. Either way, go with business brokers who know Winston-Salem and Forsyth County. MidStreet Mergers and Acquisitions is an experienced business broker offering a tailored approach to middle market M&A. Since 2001, we've helped over 400 business owners throughout North Carolina plan for, market, and successfully sell their businesses, including well-known businesses such as Winston-Salem's Westbend Winery and Brewery. We've also connected hundreds of buyers with the perfect company, and helped them navigate the long and difficult process it takes to buy a business.
Winston-Salem Business Forecast
Forbes magazine ranks Winston-Salem as the 14th best town in the United States for the cost of doing business. Winston-Salem is home to a population for roughly 663,000 and offers a cost of living that's 8% below the national average.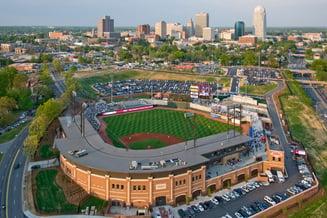 Home to BB&T, Krispy Kreme Doughnuts, and Southern Community Bank's headquarters, Winston-Salem is transforming into a leader in the nanotech, high-tech, and bio-tech fields. With the nearby Wake Forest University Bapitist Medical Center, there are many business opportunities connected to the healthcare sector.
Other industries that make up WInston-Salem and Forsyth County's economy are professional & business services, retail, arts, hospitality, and food. Small local businesses in this area benefit from WInston-Salem's "Keep It Local" initiative, which encourages locals to shop at independent shops and contribute to the local economy. This can be very beneficial if you're thinking about buying an independent business or starting your own in Winston-Salem, North Carolina.
Our Services
When it comes time to sell, middle market businesses face unique challenges. The strategies employed by Main Street business brokers work for smaller businesses, but don't produce the same results for larger companies. If your business is producing between $500,000 and $25 million in revenue, you require a tailored approach.
MidStreet specializes in lower middle market mergers and acquisitions – specifically small- and mid-sized businesses. We understand the challenges mid-market companies face, and offer a range of services designed to help you successfully market, sell, and maximize the value of your business.
Our M&A solutions include:
Valuations – Gain insights into the real market value of your business during a free, confidential business valuation
Exit Planning & Value Enhancement – Prepare your business for sale and take steps to maximize its market value
Effective Promotions – Tap our network of confidential marketing platforms to reach thousands of qualified buyers
Custom Video Marketing – Tell your story with personalized promotional videos, a powerful and effective marketing solution
No Upfront Fees – You don't pay until we close the deal