Have you heard of an "individual buyer" before, but don't know what to picture?
Usually, individual buyers are normal people with savings from a corporate job or another business they owned in the past. They usually have experience managing people and running the operations of a business. Regardless of their background, an individual buyer will treat your business like their own when they purchase it.
At MidStreet, we have vetted many individual buyers to get our clients the most compatible buyer for their business. If you find the right individual, they will have the skills, funds, and attitude to run your business.
To make sure you know everything about individual buyers and how to tell if they are the right type of buyer for your business, we will cover their positives and negatives as well as tips for how to vet them.
Let's jump in.


What Buyers Are Considered Individual Buyers?
An individual buyer is a person or small team that plans to purchase your business to operate it. In most cases, they want to step into your shoes and start operating the business day-to-day.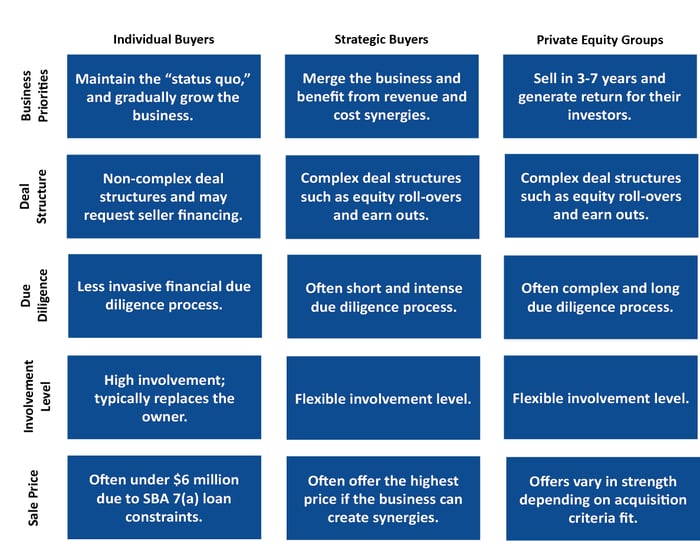 Most individual buyers are one person but there are also small teams that can range from two business partners to a husband and wife team. They will usually be moving to your location and are often moving their entire family with them.
Individual buyers:
Have typically never owned a business
Fund the down payment with their savings or 401k
Will usually not want to change your business a lot
In some instances, an individual can have a high net worth, but the majority of individual buyers you see will be entrepreneurial people who want to leave their corporate day job to run a business.
Since most individual buyers do not have an extremely high net worth, they will primarily look at businesses with less than $10 million in revenue or $1.5 million in earnings. They search within those parameters because they will usually need to get an SBA 7(a) loan, which is capped off at $5 million of loan value. This means a purchase price of around $5.4 million with a normal down payment and working capital can be achieved using an SBA 7(a) loan.


Advantages of Selling to an Individual Buyer
Individual buyers can be a great fit for your business because they:
Are usually easier to deal with and have a smoother due diligence process
Are usually easier to work with than a private equity group
Often want to purchase as bad as you want to sell
Often have less complicated deal structures
Once an individual buyer pays non-refundable money to the lender they usually don't want to back out. And, because they usually want your business as bad as you want to sell it, they will be very motivated to close in a timely manner.


Disadvantages of Selling to an Individual Buyer
If you are trying to figure out if an individual buyer is the right fit for you, consider the following disadvantages:
They usually have less capital and flexibility
You will most likely have to go through the SBA 7a process with them
They might not have the operational experience that a private equity firm has
You will not be allowed to maintain any ownership after the sale when a buyer uses the SBA process
Sellers are not allowed to stay on as an employee or consult for longer than a year
Most of the rules you will encounter with an individual buyer will be related to the SBA 7(a) loan process.


What Type of Financing do Individual Buyers Use?
The most common way individual buyers will receive financing to purchase a business is through the SBA 7(a) loan program.
Most traditional banks are not willing to give an individual buyer a loan unless it is through the SBA. To learn more about how the SBA 7(a) process works, read "How The SBA 7(a) Loan Program Can Help You Purchase a Business."
Another way an individual buyer can finance the purchase of your business is through partial or full seller financing. Other types of buyers may also request seller financing depending on the price and type of business you have.


Tips on Screening Individual Buyers
To find the best individual buyer for your business, you should consider the traits required to run your business successfully. Some common qualities of good individual buyers include:
They are great with people and would work well with your employees
They have a compatible management style for your business
They possess great leadership skills
They have an excellent attitude
It is important that you tailor your search for a buyer to your business and industry. An individual buyer who was previously a general manager of a plumbing company may potentially be a good fit for a pest control business since they come from another home service company.
If you pick an individual buyer with a background that is dissimilar from your company's industry, they may need an adjustment period to get used to running the business and leading the employees.


Is An Individual Buyer The Correct Buyer For Your Business?
Now that you know that individual buyers are generally looking for businesses valued less than $5.5 million, a solid group of employees, and established processes, you can better determine if they are the right type of buyer for your company.
If you know that you want to target individual buyers, but don't know how to properly vet them, a merger and acquisition (M&A) advisor can help. They know how to weed serious individual buyers from tire kickers.
Are you still unsure if an individual buyer or another type of buyer is the right fit for your business? Learn about other types of buyers by reading "The 5 Types of Buyers for Your Business."
We have vetted all types of buyers for our clients over the years and have been able to identify what separates a qualified buyer from an unqualified buyer. Call us today to get help with selling your business.