So, you're about to sign a listing agreement with an M&A advisor or business broker. Maybe you're still in the process of choosing a broker to work with.
Wherever you are in the process of selling your business, you may be curious about what you can do to help your business broker throughout the selling process.
As certified business intermediaries, we know that selling your business requires a team effort.
Knowing how to best assist your broker can help ease the transition for you, keep buyers on the hook, and get the deal done as quickly as possible.
Let's break down some of things you can do to help your broker throughout the selling process.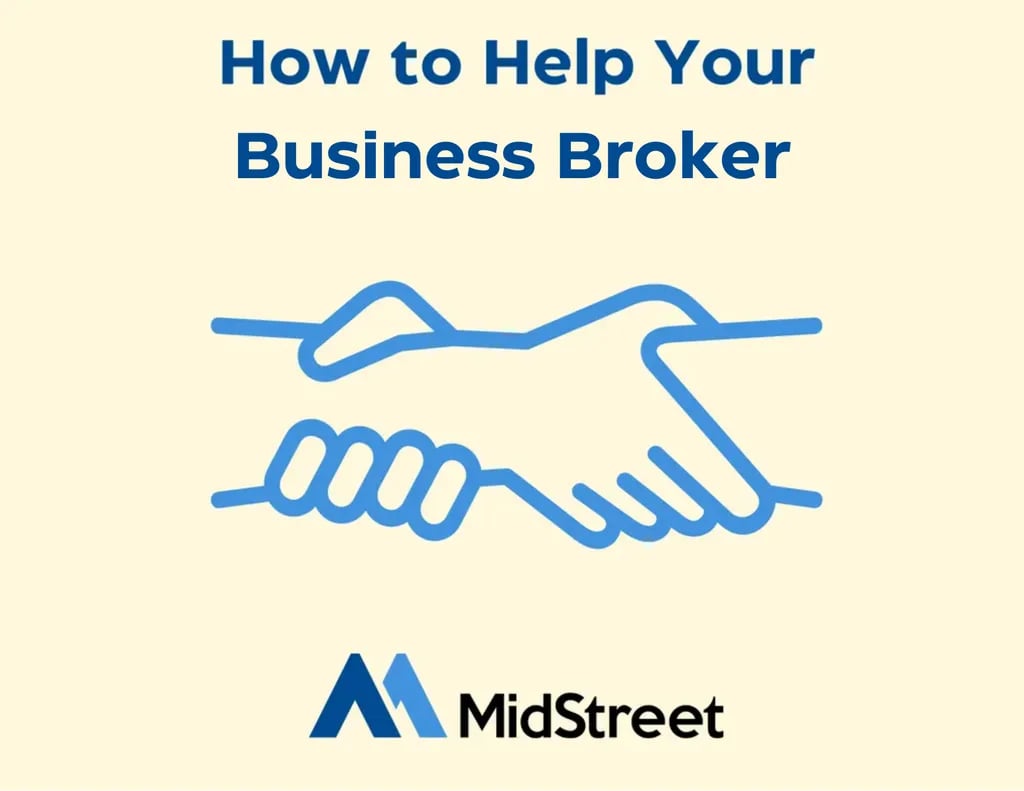 Helpful Tip 1: Prepare for Due Diligence
During due diligence, a buyer will conduct a thorough analysis of your business to confirm the information you've presented is accurate.
Throughout this process, buyers will comb through your financials, verify the business's legal structure, and analyze other items like your real estate and daily operations.
When due diligence is being conducted, you can expect to receive several requests from buyers. Your business broker or M&A advisor will help facilitate buyer requests as they come in to keep as much off your plate as possible.
To assist them in this stage of the deal, it can be helpful if you prepare for due diligence ahead of time.
Let's discuss a few ways to do that.
Clean Books and Records
One of the easiest ways to delay a deal is to have unorganized books and records.
To buyers, this can be concerning for several reasons. On one hand, if your books are unorganized, buyers can see this as a sign that your business is unorganized as well.
It's also much more difficult to prove your business is as profitable as you claim it is if you can't easily access the last couple years' financials or P&L statements.
For example, we sold a home services business years ago that had highly disorganized books and records. The company ran on an ERP system that didn't match its P&L statements.
When the buyer ran into these discrepancies during due diligence, they became hesitant to get the deal done.
Fortunately, we worked together with the seller to provide an explanation for the differences and saved the deal.
But, had it fallen through and gone back on the market, the purchase price could have decreased substantially.
To avoid this, it's best to spend some time cleaning up your books and records before due diligence begins.
Pre-diligence Checklist
One of the best ways to prepare for due diligence is to ask your broker for a pre-diligence checklist.
An experienced business broker or M&A advisor will already know some of the things buyers will request during due diligence, so they can help you put the necessary documents and records together before inquiries start coming in.
Using a pre-diligence checklist can help take a lot off your plate once due diligence begins. Remember, your business doesn't stop operating just because you're selling it.
In fact, keeping your business running as usual while it's being sold is crucial to getting the best offer.
Last minute scrambles to fulfill document requests when you already have a busy schedule can cause significant roadblocks, so it's important to get ahead of them as much as possible.
A pre-diligence checklist can help you do just that.
Sell-Side Quality of Earnings
You can also prepare for due diligence by getting a sell-side quality of earnings (Q of E) on your business.
A Q of E analyzes your business by determining both the amount and source of its earnings. This is different from an audit as it not only verifies the amount of cash you have coming in, but also breaks down what expenses can be adjusted, and where your profits are coming from.
For example, buyers who are looking for an HVAC business typically prefer most of its earnings to come from annual service contracts rather than installation and new construction.
Whereas an audit would verify the amount of profit an HVAC company is generating, a Q of E would show how much profit is coming from new construction vs annual service contracts.
If an HVAC business owner can prove a majority of their revenue comes from contract work, this will be more attractive to buyers, and potentially increase the purchase price.
A Q of E can cost upwards of $30,000 depending on the size of your business, but if that means a cleaner deal for buyers, it can be well worth your investment.
Having a Q of E performed on your business can also reduce the length of the due diligence period because buyers can easily access the report and only further investigate items they deem necessary.
Getting a sell-side Q of E on your business can help your business broker by allowing them to present your business in a way that is much more assuring to buyers.
MIDSTREET TIP
This can also help you increase the value of your business in the years before a sale. Getting a regular Q of E on your business will give you a better idea of where your profits are coming from and adjust certain expenses (like rent you pay yourself/your LLC) to their market values to determine your true earnings potential.
Other Ways to Prepare for Due Diligence
A few other ways you can prepare for due diligence are:
Loop in any key employees on your plans to sell– This isn't always advisable, but it's possible some of your key employees will need to be involved in the due diligence process. Looping them in early on could prevent you and your broker from having to go around them for crucial information.
Submit financial information in Excel format– When your business broker begins working on your valuation and buyers start analyzing your books, having the information ready in Excel format can help ease that process.
Get audited financial statement– If your business does more than $10 million in revenue, consider hiring an experienced CPA and getting audited financial statements.
Helpful Tip 2: Sign the Seller's Disclosure Statement
Your business broker or M&A advisor will likely have you sign a seller's disclosure statement when you list with them. This document gives you the chance to disclose any information about your business, whether it's legal, environmental, financial, or otherwise.
For example, on a recent transaction that included the business and its real estate as a package deal, the seller was aware of a potential environmental issue with the building.
In the seller's disclosure statement, the seller had disclosed this potential environmental issue. Because they did this early on, we got ahead of it, and let the buyer know.
This gave the buyer time to order a third party phase one report which was required to get the deal done.
If the seller hadn't disclosed this up front, we wouldn't have budgeted the timeline accordingly, which could have caused the buyer to walk away from the deal.
Helpful Tip 3: Be Honest
One of the biggest mistakes you can make when selling your business is keeping secrets from your broker.
If something (good or bad) happens during the process of selling your business, you should disclose it to your broker immediately.
Otherwise, it can come to light in the later stages of the deal and cause things to fall apart just as the closing date approaches.
Being honest about what's happening in your business will give your business broker time to remedy the situation before it's too late.
Helpful Tip 4: Schedule Time to Communicate
Scheduling time to communicate with your broker can help them quickly fulfill buyer requests and move the deal along.
Communicating with them doesn't just involve disclosing important information; it also involves dedicating time to work with them on the transaction.
It can be easy to let your role as a business owner get in the way of selling your business. You may get so busy that you go a week or more before you realize you've missed several calls and haven't responded to emails from your broker.
When this happens, both your business broker and the buyer start to become concerned about getting the deal done, which can cause things to implode quickly.
If you know you have a busy schedule, it's best to block off time throughout the week to work on the deal and speak with your business broker or M&A advisor.
Helpful Tip 5: Commit to Closing the Deal
Selling your business is a highly emotional experience. This emotional rollercoaster can come with feelings of hesitation and worry that you'll regret your decision to sell.
Remember though, you only get hurt on a roller coaster if you jump off.
For example, on a recent deal, we had developed a relationship with a seller over the course of several years.
He had gone back and forth on selling, but finally decided it was time to spend more time with his family and sell the business.
He maintained that he still wanted to sell throughout the course of the deal, but came extremely close to backing out at the last minute.
At this point in the deal, we, the seller, and the buyer had spent 8 months and substantial financial resources to get the deal done, all of which came very close to being wasted.
By staying committed to the deal, you can help convince your broker that they aren't using their time and resources on a deal you'll back out of.
Trust Your Broker
At the end of the day, you should trust your business broker to have your best interest in mind. This can be done by interviewing several brokers and M&A advisors before signing a listing agreement. Doing this will help you find someone you trust, which is a huge factor in getting a deal done.
You should also check out our blogs "What Is a Business Broker, and What Do They Charge?" and "How Much Do M&A Advisors Charge?" These resources will give you a better understanding of what an business broker contributes to a business sale, and how much you can expect to pay for their services.
If you're in the process of interviewing brokers to sell your business, contact us today. We've sold hundreds of businesses throughout the years, and would love to offer our expertise.