Selling your HVAC business can seem like a daunting task.
After all, you've spent years building your business. It's you're life. It can be hard to know when it's the right time to sell.
If you think you might be a few years out from selling, or you're ready now, you're in the right place.
Read on to learn how one company grossing $4 million in sales might sell for $1 million, while another company doing the exact same revenue could sell for $4 million.
Hint... earnings are more important than your revenue.
At MidStreet, we've valued and sold hundreds of home services businesses over the years, so we know what gets buyers interested and what turns them away.
In this blog, we'll break down some general information and guidelines on how HVAC businesses are valued, what you can do to increase your business's value, and the professional advisors you should have on your team to help you.
Let's jump in!
Table of Contents:
Valuation
The best way to value an HVAC business is to use the multiple of earnings method.  
2 to 3.5 times SDE or 3 to 5 times EBITDA
Here's how it works: Your business broker or intermediary will determine your seller's discretionary earnings (SDE) or Earnings Before Interest, Taxes, Depreciation, and Amortization (EBITDA) by adding back certain items on your tax returns and P&L statements.  
Once your annual earnings are calculated, your business broker will use comparable sales of other heating and air businesses similar in size and location to determine a range of multiples that will be applied to your earnings.  
Next, your business broker will multiply your earnings by the multiple at the high and low end, resulting in a range of selling prices for your business.
For example, let's say you own an heating and air business doing $4 million in revenue, and your business broker calculates your SDE to be $800,000.
After calculating your SDE, your broker will use a database of comparable sales to determine a range of multiples to apply to your earnings, let's say 2 to 3.5x SDE.  
In this case, your broker might price your business between $1.4 million and $2 million.
Example: ABC Heating and Air
ABC Heating and Air has approached us for a free business valuation. This company has one owner-operator who takes a salary of $100,000. As a company with a large van fleet, ABC Heating and Air has a substantial depreciation expense of $230,000.
In 2022, a storm caused damage to the facility, so there was a one-time repair expense of $10,000.
The company contributes roughly $18,000 towards the owner's health insurance, and also donated $2,500 to a youth outreach program in the community.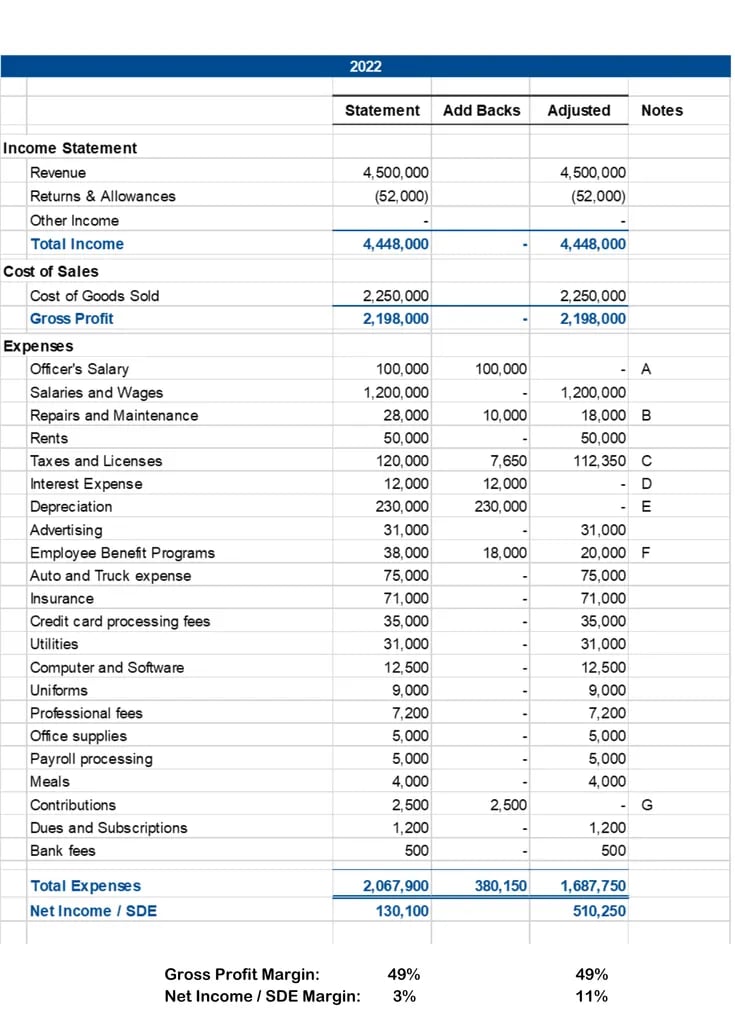 Notes:
A - Officer's Salary is added back, income owner gets to keep
B - A large one-time repair is added back, non-recurring expense
C - Company's share of owner's payroll taxes
D - Interest expense is added back per IBBA guidelines
E - Depreciation is added back per IBBA guidelines
F - Owner's health insurance is added back, owner benefit
G - Charitable Contributions are added back, not critical to continuing business operations as usual
After these adjustments, the total owner's benefit increased from $130,100 to $510,250 in SDE.
So, if an average industry multiple is 4 times SDE, the equation to determine a reasonable asking price would be:
$510,250 (SDE) x 4 (Multiple) = $2,041,000 (Purchase Price)
Keep in mind, depending on several factors, your HVAC company may sell for a multiple that is lower or higher than an average industry multiple.
To learn more about add-backs, EBITDA, and SDE, check out these resources: "Seller's Discretionary Earnings (SDE) Explained with Examples," and "What is EBITDA?" 
What Impacts the Value of an HVAC Business?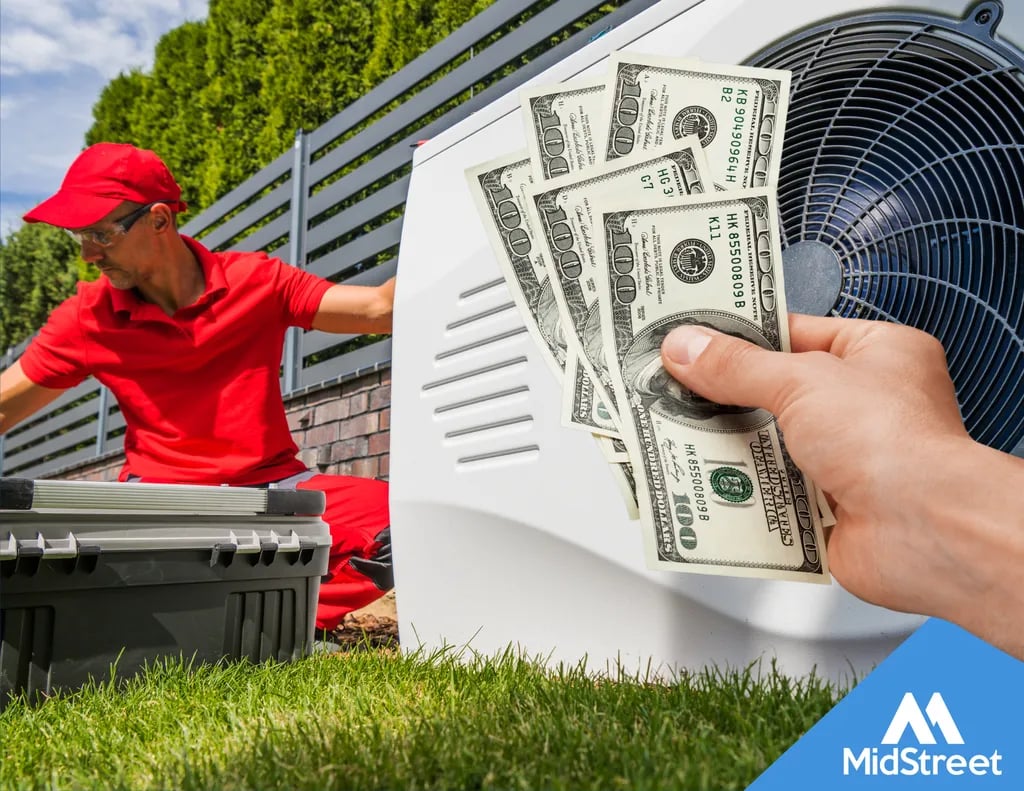 While the biggest factor impacting an HVAC business valuation is its earnings, there are other factors that determine whether buyers will offer a high or low multiple.  
Let's take a look at some of the biggest factors impacting the purchase price for your HVAC business. 
Source of Profit
During due diligence, strategic buyers and private equity groups will often dig into the earnings of your company by hiring a professional to conduct a quality of earnings report (Q of E).
A quality of earnings report analyzes both the amount and source of your earnings to show buyers which of your services make up the majority of your profits.
Something that can cause a buyer to offer a lower multiple on your HVAC business is if a large percentage of your profits come from new construction. 
Because new construction is greatly affected by fluctuations in the economy, it's not seen as a stable or consistent source of profit.
Therefore, HVAC businesses whose earnings are heavily impacted by new construction are seen as a bigger risk for potential buyers, which can substantially drive down the purchase price.   
If a large portion of your HVAC business's profits come from new construction, you'll want to focus on getting more residential contracts in the coming years to help maximize your business's value before selling.  
While buyers will offer less for your HVAC business if it has too much revenue coming from new construction projects, they will likely offer more if a large portion of your profits comes from annual maintenance agreements.
Because annual maintenance agreements are a recurring source of revenue, prospective buyers will see more value and less risk in an acquisition, which can drive up the purchase price for your business.
Owner Involvement
Typically, buyers are more attracted to businesses with an owner who isn't heavily involved in daily operations.
This can be particularly difficult for some HVAC business owners. Oftentimes, even if the business has grown, the owner will continue to be an active technician in the company in addition to holding administrative responsibilities.
When this is the case, an HVAC business can be more difficult to sell. This is because buyers are often seeking a "turnkey" operation they can step into and start running without too much owner involvement.
If you know your HVAC business relies heavily on you to operate, it's a good idea to start offloading responsibilities on some of your most trusted employees before selling the company.
This will generally make buyers more comfortable and prepare your employees for a transition in ownership.
Company Structure
Buyers are attracted to HVAC businesses that are well-managed with organized systems, inventory management, processes, etc.
Take a moment to consider this from a buyer's perspective.
It may be impressive that you're able to manage your business and fulfill customer needs without using a highly systemized approach. But what about when someone new steps in to take the reins?
They'll gain the experience necessary to call the shots eventually, but having a well-organized company structure can assure buyers they'll be able to step in and start running the business without too big of a learning curve.
Becoming paperless and organized with CRM systems is also a good way to increase the value of the business. With CRMs in place like Service Titan, Jobber, or Housecall Pro, buyers can feel comfortable knowing they're stepping into a well-managed company.
Buyers can also feel much more comfortable about your company and its structure if you are a part of a group like CEO Warrior, Certain Path, or Nexstar.
These groups help HVAC business owners improve their companies by providing access to technician training, helping you track your billable efficiency hour and closure rate of calls booked, preparing a chart of accounts, and other important practices.
Number of Technicians
Another factor impacting your HVAC business's value is the number of qualified technicians you employ.  
Some HVAC business owners have a one or two-person operation that provides them with a great salary, but doesn't present much of an opportunity for buyers.  
These HVAC businesses are the hardest to sell simply because buyers are often looking for an operation they can grow in the coming years, and they'll need a team of qualified technicians in place to make that happen.  
Hiring good, qualified technicians can be difficult. The best contractors build a pipeline of young talent with local trade schools and retain them.
If your business comes equipped with this pipeline of talent and a qualified team, this takes a lot off the plate of the buyer, making the business much more attractive.
So, if you're currently an owner/operator of an HVAC business and it makes sense to hire more technicians, it's best to do this before listing your business for sale.  
Multiple Licensees
Having several employees who are licensed to do HVAC work can be crucial when seeking buyers. Without licensed employees, there's a high likelihood you will only be able to sell to already licensed buyers. This won't always impact the multiple you receive, but it is something to consider.
Location
Like most businesses, if your HVAC business is in a growing metropolitan area, you can generally expect to receive a higher purchase price.
Since residential service contracts are so beneficial to HVAC business, a market with an abundance of homes to service presents an attractive opportunity for growth in the eyes of buyers.  
An area's climate can also impact the need for HVAC services, which can be appealing to a potential buyer as well.  
Like most appliances, the harder your HVAC system has to work, the more maintenance it will require.  
For this reason, warmer cities like those in Florida, Louisiana, Texas, and coastal markets like Wilmington, NC have some of the greatest demand for HVAC services, making HVAC businesses in those locations more valuable. 
Reputation
HVAC businesses rely heavily on their customer relationships and reputations to get more business.
Since HVAC services often require technicians and installers to enter customers' homes, customers want someone they can trust. If a company is on time, friendly, and does a good job, they'll build a positive reputation through word of mouth and the growing trend of online reviews.
Online reputations are becoming more and more important in the home services industry. Take a look at some of these statistics when considering your online presence:
"HVAC repair" is one of the fastest-growing search terms for searches related to home services. 62% of consumers ran a search for "HVAC repair" before making a purchase.
57% of consumers will only use businesses with four or more stars on Google reviews.
84% of HVAC consumers make a call to the business after conducting a search. (40% of home services consumers who call from search make a purchase.)
With a society revolving around instant gratification and mobile phones, statistics show that companies who offer a simple/user-friendly online scheduling tool linked to their Google Business Profile and social media pages outperform companies limited to receiving phone calls to schedule HVAC services.
Unlike additional staff, equipment, real estate, etc., a positive reputation isn't something that can be added to a business overnight.
Reputations take years to establish, so if you can prove your business is well-known and well-liked, buyers will be attracted to this.  
Branding
One of my friends, Josh Chick, owns a profitable HVAC repair/replacement company based in the Triangle region called Reliable Heating & Air. His company has grown fast in a short period of time, and it's not an accident.
One of the many improvements Josh helped implement in the business is the quality and recognizability of its branding. He cites this as a key reason for the company's success.
For home service companies, a professional image that draws attention to the company and helps people remember your brand is critical.

- Josh Chick, Owner of Reliable Heating & Air
Think about it: you see dozens of service vans for companies every day on the road, but only a few have graphics that actually catch your eye and make you remember the company. This shows how branding affects everything from:
Vehicle decoration (such as catchy vehicle wraps that incorporate their logo)
Website appearance and software design
Building sign and appearance
Similar to customers looking for a reputable company that takes pride in its branding, buyers looking to purchase HVAC businesses are looking for companies who take pride in putting their company name on display in the market they serve.
Buyers for Your HVAC Business
Depending on your HVAC business's size and earnings, you could attract a range of buyers for your business which could also affect your purchase price.  
Let's break down the different types of buyers who could be interested in your business.
Individual Buyer
An individual buyer is likely to be interested in your HVAC business if it is priced between $400,000 and $2,000,000.
These buyers will generally be looking to purchase your business through an SBA 7(a) loan.
Strategic Buyer
A strategic buyer is a company either in your industry or in a related industry who wants to expand by acquiring your business. Strategic buyers for an HVAC business could be companies in HVAC/HVACR, plumbing, appliance repair, or even electrical services.
These buyers may see an opportunity to increase their market share in the home services industry by purchasing your company, so they could be among the highest bidders in the acquisition.
Private Equity
The goal of a private equity group is to buy your company, grow it, and sell it in 3-7 years for a profit.
Selling your HVAC business to a private equity group (PEG) is like bringing in an equity partner who takes a majority stake.
You will still hold a share in the company (usually 20-30%), but with the PEG's resources and access to capital, the business has the potential to double its earnings over the next 3-7 years.
When the business sells again, you'll get your share of the sale, and could potentially stay on for another cycle depending on the next buyer.
This can be a great opportunity for you if you'd prefer to keep working in the company, but want some help to take it to the next level.
Buyer Licensing Requirements
Like several businesses in the home service industry, there are certain licenses that must be held by someone within the company to operate according to state guidelines.
In North Carolina, for example, an HVAC contractor must have a state license, and may also need a refrigeration contractor license or a heating and cooling contractor license depending on the kind of work they do.
When selling an HVAC company, either an employee within the company who will remain after the acquisition, or the buyer must have the appropriate licensing on the date of closing.
This is particularly important to note if you're selling to an individual buyer. Individuals often use an SBA 7(a) loan to finance a business acquisition, and SBA lenders require the new owner (or someone else within the company) to have the necessary licensing on the date of closing.
NOTE
In previous years, the seller could hold the licensing during the training and consultation period while the buyer earned their licensing, but this may no longer the case. Please reference the most recent SBA 7(a) rules.
This isn't as much of a concern for private equity buyers since they'd likely want to keep you as a manager or officer in the company after an acquisition.
Depending on the company, strategic acquirers may have multiple licensees on staff who can qualify for the licensure requirement. Please check with your local state laws and current SBA 7(a) guidelines for what is required for HVAC licensure.
Selling Your HVAC Business
Now that you've decided to sell your HVAC business and understand how it will be valued, the next step is to list with an experienced business broker or M&A advisor.
We recommend interviewing several brokers before choosing one to help you sell your business.
If you're curious about what questions to ask a business broker before signing with them, download our buyer questions below.
Once you've signed a listing agreement with an intermediary, it will take (on average) about six to eight months to sell your HVAC business. The amount of time it takes varies depending on the size of your business. As business sizes go up, the amount of qualified buyers goes down.
So, if your company is worth $10 million or more, it could take more time to sell it.
How Much Does It Cost to Sell Your HVAC Business?
The amount you'll pay an intermediary to sell your business depends greatly on the size of the business and who the targeted buyers are.
Smaller businesses (less than $1 million in earnings) are generally sold by business brokers to individual buyers. Business broker fees often cost roughly 10% of the purchase price of the business.
Some brokers may have a minimum commission between $10-15k if they sell a business at the lower end of their price range.
Businesses valued over $5 million are generally sold by M&A advisors. M&A advisors are usually more selective about the businesses they sell, and the amounts they charge can vary.
According to Firmex, many M&A advisors in 2022 are charging a scaled percentage that increases if the purchase price exceeds a certain amount. For example, a $15 million target valuation could earn a 5% fee, with the M&A advisor charging 8% for any amount exceeding $15 million.
Interested in calculating an example success fee?
Download our Success Fee Calculator below!
Takeaways
Now that you know a bit more about how HVAC businesses are valued and sold, you can start to prepare your business for the day you decide to sell it.
Remember, HVAC businesses are best valued based on a multiple of their earnings, which a business broker or M&A advisor will determine based on comps reports.
To drive up the price of your business, it's important to focus on generating as much revenue from annual maintenance agreements as possible. Recurring revenue is always a desirable feat of any business, and HVAC businesses are no exception.
To learn more about how businesses are sold, check out our blog "What is the Process of Selling a Business?" where we discuss all the steps taken to sell your business.
You should also take a look at "What are Comps and How Are They Used to Value Your Business?" to learn more about how the average multiple for your business's earnings is determined.
If you're still curious about how to sell your HVAC business, feel free to contact us today. We've sold several home services businesses throughout the years and would love to offer our guidance.