13 Key Items in a Blind Ad to Market Your Business for Sale
Nov 30, 2021
You are probably skeptical about the type of information a Blind Ad contains for one main reason:
"How do you advertise my business for sale without giving my company's identity away?"
We draft blind ads each week for businesses we list and talk sellers through this concern. When we complete their blind ad, we give sellers the chance to review it and confirm that it includes the information they are comfortable with.
We want you to receive the best blind ad you can get, whether you list with us or another firm. To do this, we have created a list of the items you should expect in a blind ad drafted by a merger and acquisition advisor.
If you don't know what a blind ad is, read this blog to get started "What is a Blind Ad in the Sale of a Business?"
Let's jump in.


13 Top Things Included in Your Blind Ad
1. A Non-Identifying Image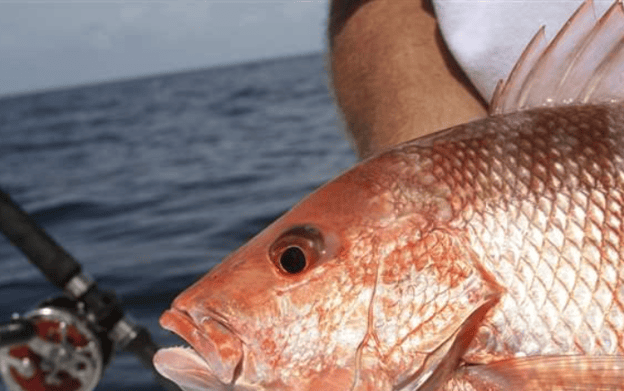 This will be a stock photo related to your industry. No logos or company-specific job sites that would give away your identity. The non-identifying image is intended to draw buyers into your online listing, which means it is important that your broker selects a quality image.


2. Non-Identifying Descriptive Title
You will want to choose a title that won't give away your exact niche, but is descriptive enough to give buyers an accurate idea of the business opportunity. Experienced brokers know how to describe the industry accurately without giving away too much.

3. The Asking Price
The amount you are asking for the business, also known as the sale price or purchase price. Depending on the brokerage you list through, the asking price may or may not include the cost of real estate in the asking price.

The asking price will not usually include the real estate because if you are selling real estate with your business, some buyers may opt to lease the real estate rather than purchase it.
NOTE
Businesses are not always advertised with an Asking Price. Sometimes businesses are advertised only with their revenue and cash flow numbers, to prevent limiting your upside in negotiations - this is a choice made by you and your advisor depending on the market conditions, type of business, and size of business.
4. Cash Flow
The amount of money moving in and out of your company. This gives buyers a little insight into the financial capability of your business to see if it is compatible with what they are looking for in an opportunity.

NOTE
Positive cash flow is good. Negative cash flow shows that more money is leaving your company than going into it.
5. Inventory
Inventory will show the amount of inventory "at cost" you have. "At cost" is what you paid for it when you got it from the supplier, rather than the market cost you would sell it for to customers.

In some instances, businesses do not have inventory and therefore it's not included in a blind ad.


6. Furniture, Fixtures, and Equipment (FF&E)
Furniture, fixtures, and equipment (FF&E) is the dollar value assigned to tangible items in your business that are not real estate or inventory. Examples include vehicles, machines, shelving, tools, computers, desks, and chairs.

Although the FF&E is generally included, your blind ad should state whether or not the FF&E is part of the asking price.


7. Real Estate
The real estate section of the blind ad will describe if the real estate is owned or leased by the owner. If it is available for sale, the broker will list the price of the real estate.

The listing should always make it clear whether the real estate is or isn't included in the asking price of the business.
NOTE
At MidStreet, we keep real estate separate and do not include it in the purchase price. Some buyers may want to buy the business and lease the real estate, rather than purchase the real estate in addition to the business.
8. A Description of the Company and Opportunity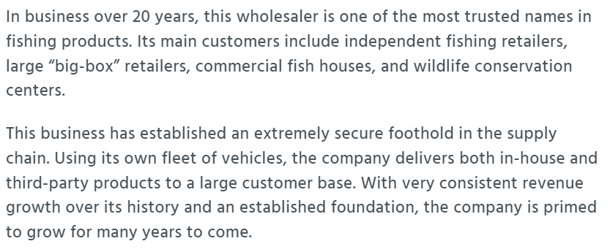 Brokers will use this section to generally discuss the characteristics of your business and present the opportunity in its best light. The description commonly covers:
Vague company and industry information
Approximate age of the operation. (Ie: if 23 years in business, it would say "In business over 20 years.")
The rough geographic location of the business
The down payment requirements
The requirement to sign an NDA for more information
This section is crucial since these details will attract the initial interest of buyers. You want to be specific enough to weed out a bad-fit, but vague enough to avoid identifying the company.


9. Competition
The competition section goes over how the business is positioned in comparison to others in the market. It can also cover how high the barrier to entry may be in the industry.

In order to create a vision for the buyer, the broker will highlight some strengths of your company, such as the reputation or customer relationships.


10. Growth and Expansion
This section will describe the best opportunities to grow the company. It will generally include increasing the company's service area, services offered, products offered, and customer base.

The focus of this section will depend on the most likely candidate to purchase the business. Read our blog "The 5 Types of Buyer For Your Business" to learn more about the different types of buyers and their preferences when acquiring companies.


11. Support and Training
How much support and training the current owner is prepared to offer to the new owner in the sale of the business? This section may also cover whether the training will be performed virtually, in-person, or a mixture of the two.

For example, if you are selling due to an upcoming move, you may not have the ability to provide in-person training and have to opt for virtual training instead.

12. Reason for Selling
This section will cover why the owner is choosing to step away and what they will be doing next. We don't recommend going into deep detail here, but sellers should be prepared to discuss their reasons for selling with buyers at a later stage.

Curious why most business owners sell? Read our blog "Why Do Business Owners Sell Their Business?"


13. Teaser Video
A Teaser video will generally be a 1-2 minute video, previewing the opportunity. Very few firms will produce these videos, but we have received very positive feedback on them over the years.
Like the blind Ad's image, the teaser video will not include any company-specific video clips or identifying information.
Here is an example teaser video for a Wholesale Fish Distributor we have listed:
Review Your Blind Ad to Protect Your Confidentiality
By knowing what the blind ad contains and the purpose of each item, you will be able to properly review the one that your broker or M&A advisor will draft for you.
Your broker will rely on your input to know whether they have included the right information for your teaser Ad. This is because you know better than anyone else what would and would not give away the identity of your business in your area.
To learn more about the marketing materials designed to advertise your business for sale, read our article "What is a Confidential Information Memorandum (CIM)?" or "Everything You Need to Know About MidStreet's Marketing Video Process."
We have worked with hundreds of companies to help guide them through the sale of their business. If you are ready to get started, give MidStreet Mergers & Acquisitions a call today.