5 Things to Know About an NDA in a Business Sale
Dec 3, 2021
If you've been thinking about selling your business, the idea of sharing information about your business with prospective buyers might worry you.
After all, if any of your employees, vendors, or customers learned you were selling it could have very negative consequences for both you and your business.
Enter the non-disclosure agreement, otherwise known as the "NDA". The NDA is a a tool used to help filter for quality buyers and protect your information.
At MidStreet, we've worked with thousands of buyers, and like most reputable brokers, require each prospective buyer to sign an NDA before revealing any information on a business we have listed.
However, our experience has taught us to take a few additional measures that help maintain confidentiality and screen out unqualified buyer prospects. These additional steps have had a big impact on helping to us achieve zero breaches of confidentiality in the history of our company.
Since this topic is so important, we wanted to share a few of our thoughts.
We will start out by explaining what a non-disclosure agreement is, why it's important, and how it can help prevent knowledge of the sale from falling into the wrong hands. Hopefully, you'll gain be able to take away a couple ideas that can help you protect your confidentiality and sell your business successfully.
Let's jump in.
Disclaimer: Although effort has been made in providing accurate information, MidStreet does not warrant that accuracy and is not liable for any errors or omissions. MidStreet, nor its employees, are licensed tax professionals or attorneys. Readers are strongly encouraged to confirm tax and legal issues with accountants and attorneys in your respective state or province.
1. What is a Non-Disclosure Agreement in The Sale of a Business?
A business non-disclosure agreement, or "NDA", is a contract between the buyer and seller of a business that describes confidential material the seller wishes to restrict access to. In simplistic terms, the NDA is designed to legally bind a buyer to keep what they learn about the business confidential.
The goal of the NDA is to keep prospective buyers from telling people who could potentially leak the information to customers, competitors, or employees, which could threaten the stability of your business and its eventual sale.
Read this article about why maintaining confidentiality in your business sale is important: "Confidentiality When Selling Your Business: The Ultimate Guide."


2. Who Drafts The NDA and Who Signs it?
Once your business is listed on broker sites, merger and acquisition sites, or online business listing sites such as bizbuysell.com, buyers will inquire.
As part of the buyer vetting process, prospective buyers will be asked to sign an NDA and fill out a buyer questionnaire.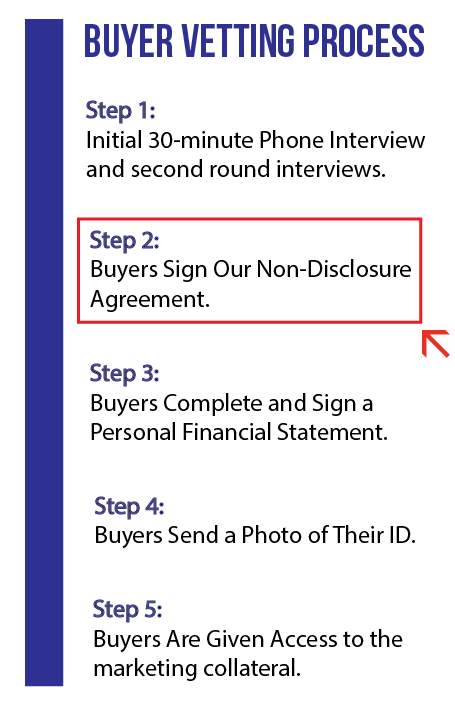 MIDSTREET TIP
The NDA is usually provided by your broker and then reviewed by your attorney, but your attorney can also draft one for you if you would like.
If you aren't represented by a broker or M&A advisor, you can also find an NDA online and have your attorney review it. Regardless of where you get your NDA, you should have your legal counsel review it to ensure it does not contain language that legally binds you to terms you do not explicitly agree to.


3. Why is a Non-Disclosure Agreement Important?
As we mentioned above, the purpose of a non-disclosure agreement is to protect the confidentiality of your business information and the fact that you are in the process of selling it. The NDA reduces the likelihood that customers and employees leave, stabilizing the business.
MIDSTREET TIP
Even if you trust a buyer, you should still have them sign an NDA. This ensures that if something goes wrong and information is leaked, you are protected.
Non-disclosure agreements also serve as a way to remind buyers of the promise they are making to keep your information confidential and the repercussions they will face if they don't.
In some cases, NDA's can be difficult to enforce since it's often hard to determine where a leak of information came from. Although NDA's may be difficult to enforce, they're still a crucial part of the buyer vetting process.
If a buyer does not sign an NDA, they can legally do whatever they want with the information they learn about your sale.
Non-disclosure agreements can also help build anticipation to learn more about your business.


4. What Information Does an NDA Contain?
A non-disclosure agreement will usually cover the following items:
A non-solicitation period
The broker's role/ the advisor's disclaimer
Use of information
Return of information
Exceptions for certain information
No obligation
Circumvention
Term
Knowing what an NDA typically includes will help you determine what parts of your NDA you are and are not willing to negotiate.


5. Can a Non-Disclosure Agreement be Negotiated?
Are the terms of an NDA usually negotiated?
It will come down to the size of your business and each buyer.
For larger deals, some buyers will have attorneys on staff to review the legal documents such as NDA's. If there are any terms they want to negotiate, they will redline the NDA and send it back.
However, as the seller, you will ultimately get to choose if you agree to a buyer's revisions on your NDA. In some cases, negotiation of the NDA's terms can set the tone for negotiations throughout the entire deal.
If the buyer suggests large revisions to the NDA and you accept all of them, they may feel as though they have the upper hand in negotiations. If you accept a few suggestions and push back on some, it can warrant more respect from the buyer for future negotiations.
What if you don't want to agree to any of the suggested terms?
You can decline the revisions and the buyer may still sign the NDA. Use your own judgment based on how good of a fit you feel the buyer is for your business.


Protect The Confidentiality of Your Sale With an NDA
The confidentiality of your sale is important, which is why it is key that you have prospective buyers sign a non-disclosure agreement.
Now that you know what an NDA is, why it is useful, and how it can protect your confidentiality, the next step is learning how to properly vet buyers.
Find out more about the different types of buyers that could purchase your business by reading our blog "The 5 Types of Buyers for Your Business"
If you are interested in selling your business and want to learn about how you can maintain your confidentiality, call us at MidStreet Mergers & Acquisitions today.