How Long Does it Take to Sell a Disaster Restoration Company?
Mar 7, 2022
When you are preparing the sale of your disaster restoration business, there is probably one looming question on your mind, aside from price - "How long will it take?"
This is an important detail to be considering, especially because it will help you determine when you should get started.
At MidStreet, we encourage disaster restoration business owners to begin their exit plan years in advance so that when it comes time to sell, they can achieve all of their selling goals.
In this article, we will walk you through the timeline of selling your disaster restoration business, the importance of preparing to sell in advance, how to sell it faster, and how much time you will need to dedicate to the sale.
Let's get started.


What's The Timeline?
On average, it will usually take around 6-11 months to sell your disaster restoration company from the time you list your business to the time you close.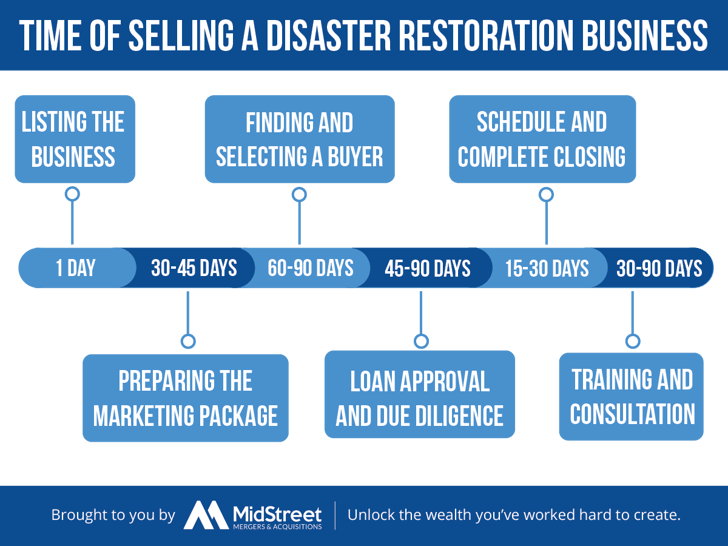 Once you list your disaster restoration business for sale, you will still need to go through the following steps with your broker:
Preparing the marketing package
Finding and selecting a buyer
Loan approval (or investment committee approval) and due diligence
Schedule and complete closing
Training and consultation


The Importance of Preparing to Sell in Advance
In an ideal situation, you would start working with your financial advisor, CPA, and merger & acquisition (M&A) advisor as early as possible.
When you hear that the average time it takes to sell is 6-11 months, you may be tempted to start preparing 6-11 months before you want to be completely out of the business. However, if you want to achieve all of your selling goals, you should start exit planning with your deal team early.
If you are reading this and you are thinking about selling your disaster restoration company in the future, you should start exit planning now. This is the best way to have the most control over your sale both in how quickly you can sell as well as the price you get.
The first step in exit planning is to get a business valuation performed so you can properly evaluate the current state of the company.


How to Sell Your Disaster Restoration Company Faster
The speed of your sale will rely heavily on two main factors: the kind of buyer you will sell to and how desirable your business is.
1. Who Will You Sell To?
The disaster restoration industry is going through a phase of consolidation, which means it is of interest to buyers with deep pockets, such as strategic buyers and private equity groups. Depending on the type of buyer you sell to, certain parts of the sale may go faster or slower.
Individual Buyers
If your business is worth less than $5 million and you are not selling to strategic, you will likely sell to an individual buyer. You may end up selling to an individual over a strategic buyer because you are worried about preserving the name and legacy of the business or because there is not a lot of interest from strategic buyers.
If you do sell to an individual buyer, the part of the sale that will take the longest is the process of your buyer getting approval for SBA 7(a) financing. The SBA will carry out their own due diligence on your business to confirm whether or not they feel comfortable lending on it.
The best way to make the SBA 7(a) approval process go quicker is to have organized books and records and readily provide the lender and buyer with the information they need. Your broker and CPA can be highly valuable in this process, especially if your broker has experience with SBA 7(a) deals.
Strategic Buyers
If a strategic buyer thinks your business is a good fit for them and if there is urgency around the offer, chances are, they'll move quickly to get the deal done and pay you a high price for the company. Oftentimes, strategics already know of your business and may have reached out in the past, making them ask fewer questions than other buyers during due diligence.
MIDSTREET TIP
A common misconception is that strategics will rebrand the acquired company and fire "redundant" employees. The truth is, whether or not they pursue this strategy depends on the buyer. We have worked with a number of strategics who have done a great job of preserving the name of the business, maintaining branding, improving benefits packages, offering higher training, and improving the culture.
While strategics will generally have more knowledge of your business, they will still usually perform a QofE (Quality of Earnings) on your financials before they can be fully comfortable with closing.
Although some strategics may take as long as individual buyers and financial buyers to perform due diligence, our fastest-selling disaster restoration transactions have been from strategic acquisition.
Financial Buyers
In our experience, selling to a private equity group (PEG) can take a similar amount of time as selling to an individual buyer that has to go through the SBA 7(a) process. This is because they will likely have to learn more about your industry and the players in it.
Financial buyers will also usually hire an accounting firm to perform a QofE (Quality of Earnings) on your financials during due diligence. Their goal is to get more comfortable with the earnings of your company, to make sure they're paying the right price for your business and that it's a company they'd like to acquire.


How Desirable Your Business Is
We've identified six factors that will impact the desirability of your disaster restoration company, which will ultimately impact how quickly you can sell.
1. Your Books and Records
The more prepared and organized your books and records are, the better. You want it to be as easy as possible for a potential buyer to digest the financials you are showing them.
The more easily a buyer can understand your disaster restoration company, the quicker they will trust you, which will help you get the deal done faster and command a higher price.
Being able to generate basic statements like last month's income statement or a most recent balance sheet quickly will help. During due diligence, some fundamental items the buyer will ask for are items such as:
Income statements
Balance sheets
AR and AP Aging Reports
Profit and loss statements (P&Ls)
Tax returns
If you can provide reports quickly, you will be able to ensure that due diligence does not take longer than necessary. One of the most common bottlenecks we see in selling businesses is the time it takes to satisfy financial requests by buyers.
MIDSTREET TIP
If the buyer doesn't have what they need to feel comfortable purchasing the business, they may find ways to extend the due diligence period. The more at ease you can make them feel, the better. To do this effectively, provide prompt responses to their due diligence requests and make sure the broker is anticipating future requests and reacting promptly.
2. Your Day-to-Day Involvement
The level of involvement you have in the day-to-day operations of your disaster restoration business will impact whether you will have time to get the broker the documents they need to provide to the buyer during the sale.
If you are working in the business 80 hours a week, it may take longer to sell your disaster restoration business because you may not have as much time to give the buyer the documents they need to get comfortable with the idea of purchasing your company.
It will also be a less ideal situation for the buyer, as it'll be harder to replace your role as the owner with the new buyer and/or general manager.
The most ideal scenario is if your role is to make sure the business is running well, with a lower level of involvement. As much as is feasible, work ON your business, not IN it.
3. The Economic Environment
The state of the economy can affect the timeline dramatically - it can cause it to close slower or close quicker. If the economy is doing well, buyers will be more motivated to close because the sooner they close, the quicker they will be able to receive profit from the business, and the easier it is to transition the company to the buyer.
If the economy is doing poorly, buyers typically take longer to close because there will be more uncertainty in their investment.
4. The Amount of Program Work
The amount of program work you do can make your business more or less attractive to buyers. If you are a $9 million disaster restoration company, you will most likely want to have less program work, since you'll likely sell to a strategic who prefers less program work.
Although program work can provide you with a consistent flow of new business, it can create concentration in who you get your new business from, which can make buyers nervous, especially if they have multiple locations in different states.
5. The Reputation of Your Business
The reputation of your company can help a lot in making the sale process quicker. If strategic buyers know who you are and know your reputation, it will make them trust you more.
If your buyer has more trust in you and the business, they will be more comfortable and motivated to close quickly.
6. The Expertise of Your Deal Team
As we mentioned above, you will be an integral part of gathering documents for due diligence, as will your broker. The more experienced and organized your broker and the rest of your deal team is, the better.
If your broker has a well-defined process and can prepare you for what you need to do, the due diligence phase will be more seamless and take less time. The keyword is experience. Your advisors should anticipate problems before they arise.


How Much Time Will You Need to Dedicate to The Sale?
Your M&A advisor will take point and lead the deal, valuing your business, screening buyers, developing marketing materials, handling due diligence, and keeping the deal moving forward to a successful close.
While your M&A advisor will take point on executing the transaction, you will still be needed to help facilitate document collection, be present for buyer-seller meetings, and spend time working with your advisors to make sure your goals are being met.


Sell Your Disaster Restoration Business Efficiently
The easiest way to speed up the timeline of the sale of your disaster restoration business is to prepare ahead. If you get a business valuation and start exit planning before your sale, you will be able to sell faster.
To get a better understanding of what a business valuation is in the sale of your company, read "What is a Business Valuation? (And Which Type Is Right for You)." If you already know what a business valuation is and you want to learn more about exit planning, check out "What is an Exit Plan? (And Why Every Business Owner Needs One)."
Do you want to know how long it will take to sell your disaster restoration company? Feel free to reach out to us to find out more about how long it will take.