However, statistics from the last three years show the average time to sell a business is roughly six to ten months.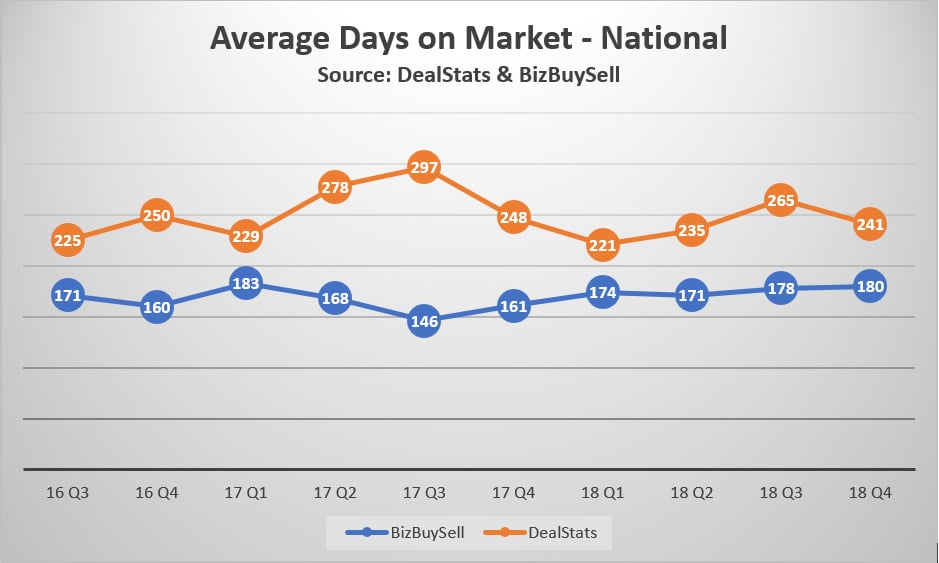 NOTES
Why the difference in data?
Generally, BizBuySell handles more main-street businesses (less than $1 million revenue) while DealStats is commonly used in the lower-middle-market (greater than $1 million revenue).
For you and your business, the answer will depend on a variety of factors, including:
1. Asking Price
2. Type of Buyer
3. Desirability
4. Financing Required
5. Business Structure
6. You
Below, we'll outline how these factors influence the time it takes to sell and share an example timeline for each step in the process.
Factors Affecting the Speed of Sale
1. Asking Price
Research pulled from more than 35,000 transactions in the BVResources database shows a comparison of average days on market for businesses based on sale price: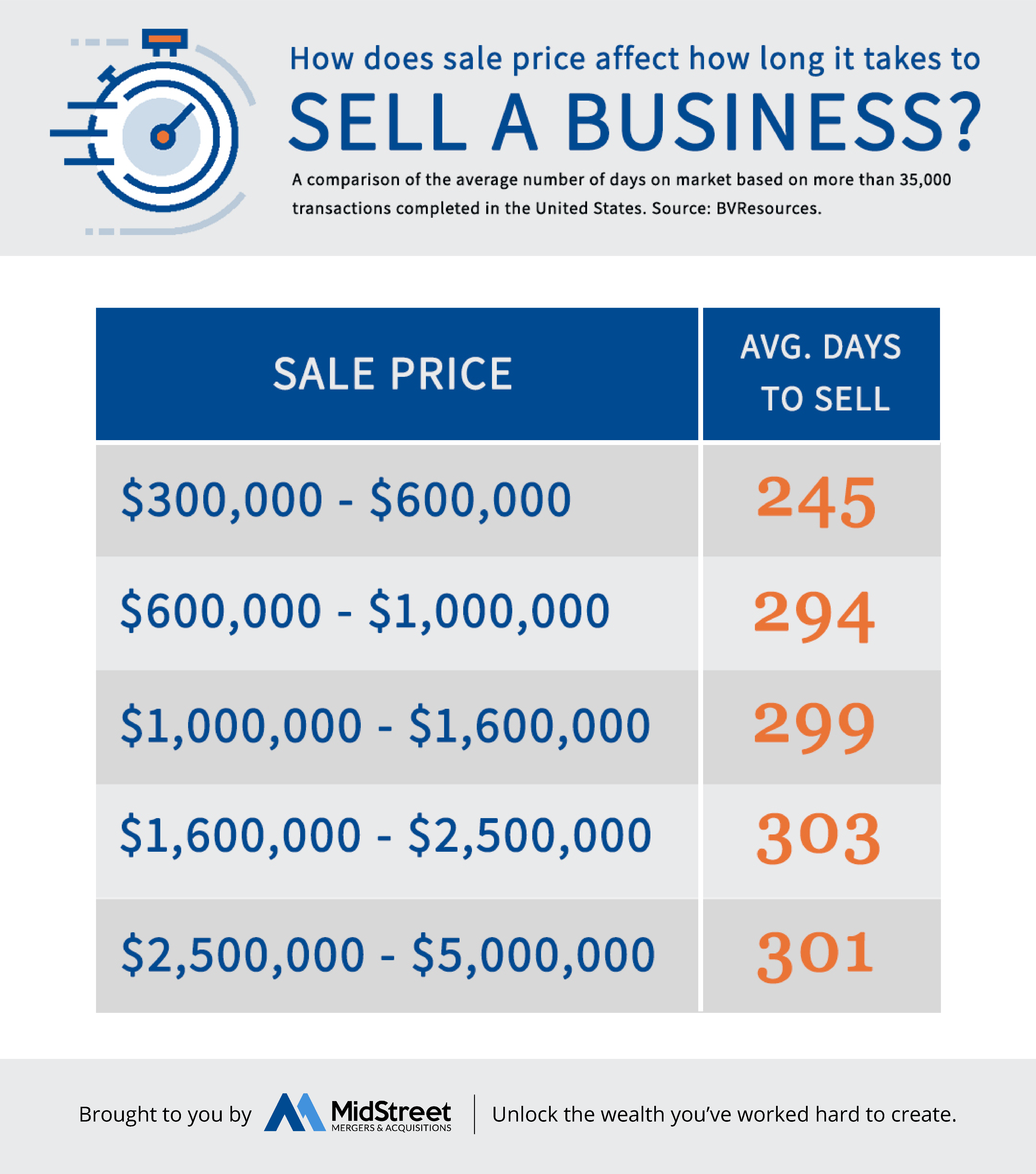 As the sale price increases, it takes longer to sell. Why?
As the purchase price increases, the pool of financially capable buyers decreases.
Buyers that have the financial resources to acquire larger businesses also tend to request longer due diligence periods and involve many of their professional advisors in the process.
In addition, larger businesses tend to have more complex operations and will involve lenders/secondary investors who take longer to assess the opportunity.
Wondering how your business will be priced? Take a look at our blog on Seller's Discretionary Earnings to get started.
2. Type of Buyer
Generally, there are three types of buyers for businesses in the lower middle market: individual buyers, strategic buyers, and private equity groups. Each will affect your timeline differently.
Individual Buyers – Tend to move the quickest. However, they commonly use the SBA loan program to procure financing. From the time the buyer applies for a loan to the time they close on the business takes an average of 45 - 90 days. Other variables such as leaving their job or relocation may also influence the ultimate timeline.
Strategic Buyers – Usually take the longest – they're intimately familiar with your industry but navigating corporate and regulatory approvals will often drag out the due diligence process. In many cases, the most time consuming item will be the development of a post-merger integration plan. According to Harvard Business Review, more than 70% of strategic acquisitions fail to meet expectations. To maximize the chances of success, a detailed integration plan is sure to at the top of the list.
Private Equity Groups – PEGs often fall in the middle. If your business is being acquired as a roll-up (meaning, it's being consolidated into a similar company the PEG already owns) it should be a bit quicker. If your business is being acquired as a new platform for the PEG, they may be unfamiliar with your industry causing them to ask for every conceivable data point you can squeeze into an excel spreadsheet.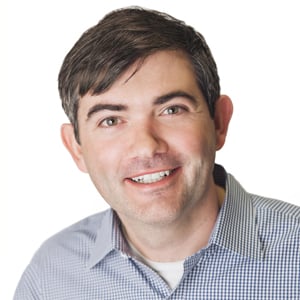 "One of the most critical parts to preparing for the due diligence process is to understand the perspective of the buyer. Since investors are responsible for being wise stewards of their capital, they need to learn about every facet of your business and leave no stone unturned. They are trusted with the money of other investors and cannot be frivolous with that responsibility. The diligence process, which can take anywhere from 3 – 6 months, will be led by the investor and supported in large part by a variety of experts employed on behalf of the investors — namely lawyers, accountants, consultants, and other service providers." - James B. Darnell, KLH Capital
3. Desirability
This refers to the demand for businesses in your industry and geographic location.
Industry – We have buyers practically beating down the door for Managed Service Providers (MSPs). Meanwhile, a highly profitable semi-absentee port-a-john company may sit on the market for months without much interest. Industry matters - buyers are buying both the business and the lifestyle it provides.
Location – Over the last 25 years, the average days on market for North Carolina companies according to BVResources was 180 days. The average for Ohio was 251 and the average for Texas was 261. Location plays a big role.
MIDSTREET TIP
If your business is located in a desirable area, make sure your broker highlights this fact in all your marketing materials. Many buyers will be from outside your local area and things like schools, neighborhoods, recreational opportunities, shopping and sporting events can play a big role in their decision.
4. Financing Required
Since successful businesses in the lower-middle market rarely involve a significant percentage of owner-financing, and few buyers have the liquid resources to pay 100% cash, financing is common - especially through the SBA loan program. To find the number of days a loan takes on average, we contacted the largest SBA loan broker in the country, Steve Mariani, from Diamond Financial Services.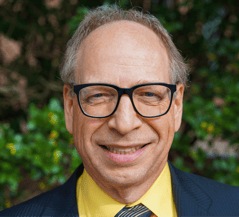 "The average time to complete an SBA loan in our shop is 45 to 60 days. How quickly we get everything we need from the buyer and seller to process the loan is a big factor in regard to the time-frame. We often see delays caused by inexperienced lenders. For us, it really depends on cooperation, lender experience and a commitment to the transaction from start to finish. To reduce the time it takes, work with someone who does SBA lending day in and day out and will keep the lender on track at each stage of the process." - Steve Mariani, Diamond Financial Services
The average time to complete an SBA loan in our shop is 45 to 60 days. How quickly can we get everything we need from the buyer and seller is a big factor in regard to the time-frame.
5. Business Structure
Be honest – if you were to take an extended vacation - let's say six to eight weeks - how well would your business run without you? The less you'd be missed, the better position you're in to sell and sell quickly.
Buyers need to feel comfortable in their ability to run your business. If key customer and vendor relationships walk out the door when you leave, or if you're still the only one who can make decisions, finding a buyer with the skills to replace you can be a tall order.
Try to remove yourself from daily operations as much as possible. It's easier said than done, but it can have a big impact on the value of your business and the time it takes to sell.
6. You
Believe it or not, you may be the single most important factor in the speed of your sale. While selling the business is primarily your broker's responsibility, they'll need your cooperation to keep the deal moving forward.
From updated financials to lease agreements and a list of utilities and social media accounts, there's a lot of information that needs to be exchanged. If you respond quickly when asked to provide something, the buyer will feel more comfortable, the lender/investors will trust you more, and your transaction will have the best chance of closing.
Last, but certainly not least, is the emotional roller-coaster you're likely to encounter during the process. After devoting years of time and energy into growing your business, stepping away and starting a new adventure is not easy.
To prepare for these emotions, it's important to establish why you want to sell, and what your goals are following the sale. This will help keep you on track when emotions start to rise.
MIDSTREET TIP
M
any of the requests you receive from the buyer during due diligence are actually prompted by the SBA lender and needed to approve the loan. To avoid delays, your broker should be asking you for
Financial Information, Insurance Information, Equipment List, Franchise Agreements
,
Licenses
,
Lease Agreements
, and/or other business-specific agreements ahead of time.
Example Deal Timeline
Now that you know what influences the time it takes to sell a business, we'll walk through the step by step timeline of each stage. Keep in mind that the timeline below is only a guideline. As in most things when selling a business, there are many variables which can greatly influence the outcome of your transaction.
NOTES
Most business spend years contemplating a sale before deciding to move forward. For the purpose of answering the question "how long does it take to sell a business?" we've started our timeline at the moment a business is actually listed for sale.