How Does MidStreet Qualify Buyers?
Jan 5, 2022
Qualifying buyers is all about protecting your information during the process of selling your business.
Once an opportunity becomes available, we receive inquiries from everyone: legitimate buyers, tire kickers, strategic buyers, direct competitors, you name it.
So, how exactly does MidStreet ensure only the right types of buyers are getting access to your sensitive business information?
Great question. The process of vetting buyers for your business requires your broker to take great care filtering every inquiry we receive.
At MidStreet, we vet thousands of buyers each year. If we feel that a buyer is a poor fit or displays red flags, we will remove them from the process immediately to protect our client's confidentiality.
In this blog, we'll cover the actual steps we take to qualify buyers for our clients.
Let's get started.


How do we Attract Buyers?
To give you a good understanding of how we vet buyers, it helps to have a quick primer on how we attract them. While there are many ways buyers enter the process, these are the two most common.
1. Inbound Inquiry From Online Listing
Every listing we take is marketed using a blind ad and teaser video on the highest-performing listing sites. These materials highlight the business opportunity using non-identifying wording, images, and video clips.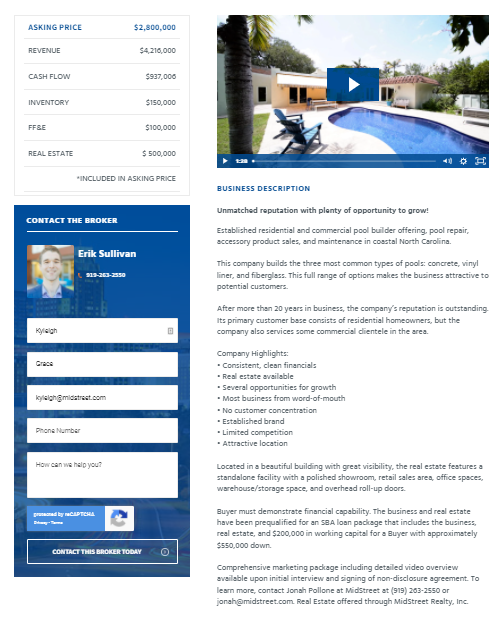 We use non-identifying information at this stage to maintain confidentiality while attracting as many buyers as possible.
Learn more about how these blind ads are crafted, read our article "13 Key Items in a Blind Ad to Market Your Business for Sale."
2. Perform Outreach to Curated List of Buyers
In addition to attracting prospective buyers with the blind ad, we will also create a list from our proprietary database of strategics, individuals, and private equity buyers who we are a good fit for the business. We then contact them directly to confidentially discuss the opportunity.
This list will vary depending on the type of buyer you want to target as well as your business's size and industry. Initially, these potential buyers are given very limited information, and they are intensely scrutinized due to their relation to the industry.


9 Steps We Use to Vet Buyers For Your Business
Now that we've discussed the two most common ways we attract buyers, let's cover how those buyers are qualified prior to receiving sensitive information.
1. Field Buyer Inquiries From Blind Ads
When we list a business for sale on BizBuySell.com, our website, or Axial we usually receive hundreds of inquiries from every type of buyer you can imagine. When inquiries come to us, this is what they look like: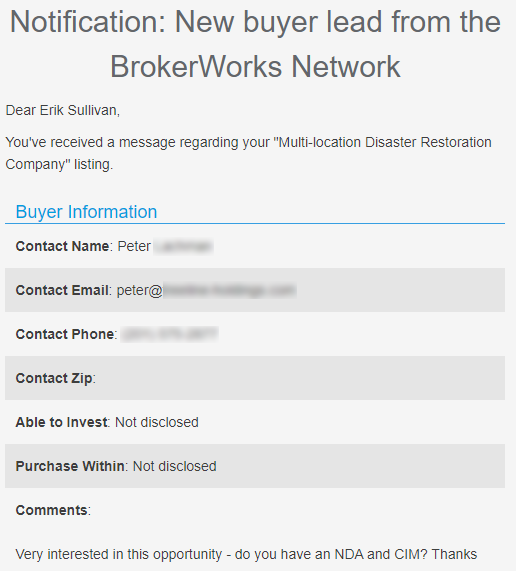 Our first step is to pick up the phone and try to speak with the inquirer directly. This initial 5-10 minute chat is used to confirm the buyer is serious, and set a longer interview to discuss their background and interest further.
If we can't get them on the phone, we send a follow-up email letting them know we need to talk with them on the phone before proceeding. If they never respond, we don't move forward.
MIDSTREET TIP
Some brokers at this stage set up an automatic NDA process that will send buyers your CIM and other confidential marketing materials when the buyer simply fills out an NDA. We don't recommend this since it eliminates any sort of vetting process that would protect the confidentiality of your sale.
2. Initial Interview With Prospective Buyers
This initial interview will go a few different ways since we will need to vet for different information based on the type of buyer and the listing. For instance, if the listing is for a service business that requires a general contractor's license, we will need to vet for that.
Some examples of what we would cover with an individual buyer are:
Their background and experience/skillset
Their financial capability
The type of financing they need (usually SBA)
Whether they are open to relocation (if necessary)
If they have any connection to a competitor
MIDSTREET TIP
For
SBA 7(a) loans
, the SBA lender often requires the buyer to live in the same area as the business they're buying. This ensures that the business has the best chance to succeed and reduces the likelihood the buyer will default on the loan.
If we are speaking to a financial buyer like a private equity group (PEG), search fund, or independent sponsor, we will usually cover the following topics:
The background of the buyer
Their investment criteria
Their portfolio of investments and the businesses they currently own
What deal structure they would prefer - full buyout or majority recap
If this business would be a platform or rollup company
If they have committed or pledged capital
The last two topics are geared more towards PEG's to determine how this business would fit in their portfolio and what type of financial backing they have available.
MIDSTREET TIP
Make sure your broker keeps a record of every buyer inquiry. Some brokers are really disorganized and might forget to follow up with buyers, which can affect your chance of selling successfully.
We create a database for each listing we post in order to keep track of eligible buyers as we vet them. We review this daily to follow up with buyers and maintain momentum for the sale.
3. Send Buyers NDA and Financial Questionnaire
If a buyer seems like a good fit after our initial interview, we will send them a more-detailed questionnaire and a link to our NDA. We also request a photo of their ID and a personal financial statement at this time.
We request buyers' IDs (for search funds and individual buyers) to ensure that the name on their ID and their personal financial information match. This prevents competitors, employees, or ineligible buyers from hiding their identity to circumvent our process.
4. Confirm Buyer's Identity and Financial Information
Once we have received the buyer's questionnaire, financial statement, driver's license, and NDA, we will review it for credibility. This check will ensure the buyer:
Is not a competitor
Has sufficient funds to buy the business
Is a fit based on their answers in the questionnaire
Has signed the NDA properly
If the buyer's information checks out and they seem like a good fit for the business, we will send the confidential information to them.
If we review this information and anything feels off, we will call the buyer. If we still feel unsure about the buyer, we will not send the confidential marketing materials - even if they have signed the NDA.
5. Send Confidential Marketing Materials to Vetted Buyers
Once we have vetted buyers thoroughly, we will send the confidential marketing materials. This will include the confidential information memorandum (CIM) and the marketing video.
As part of our process, we create a data room where each of the approved buyers can access these sensitive items. This allows us to keep track of who views the files and at what time. It's also more secure than emailing information to prospects.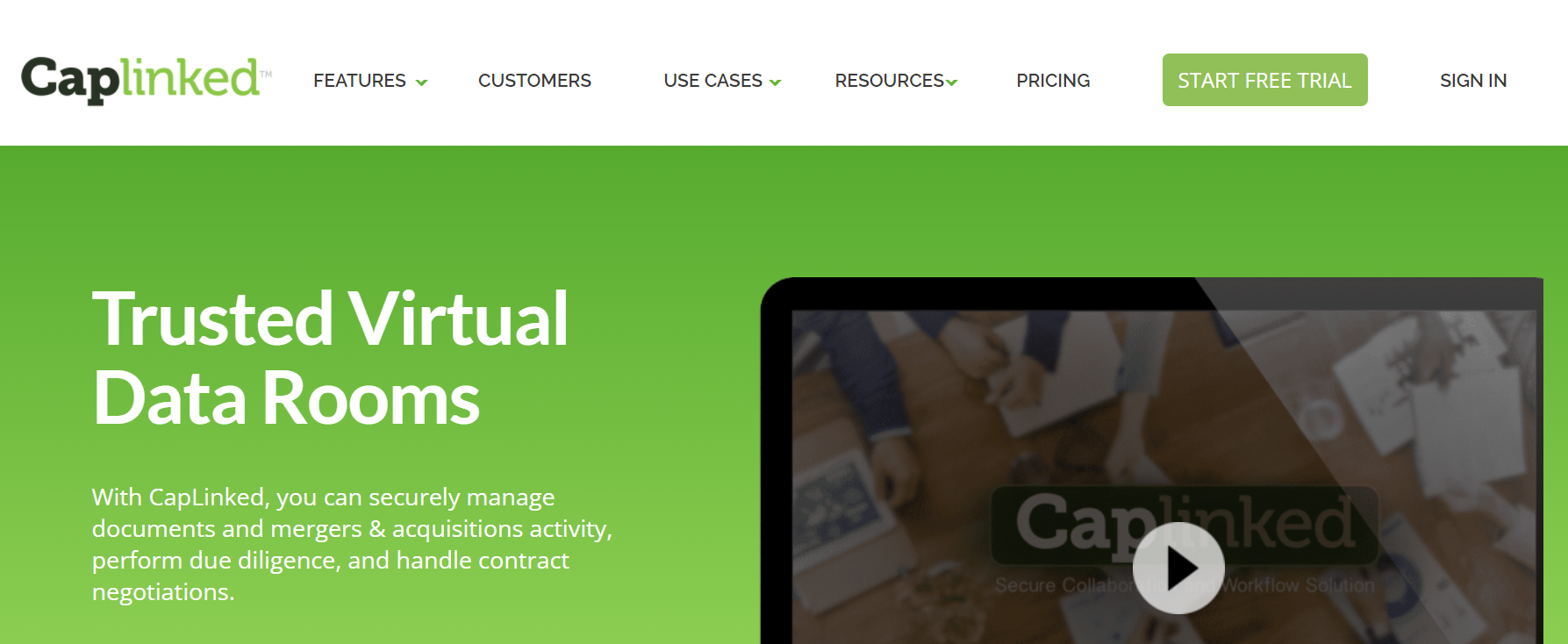 6. Speak to Buyer After They Have Reviewed Marketing Materials
After the buyer reviews the marketing materials, we will have another conversation with them to determine their interest level and answer questions they may have.
At this stage, we are gauging their level of interest in the business and whether they would be a good fit as a buyer. If we feel comfortable with their ability to close, and the buyer is interested in moving forward, we will schedule an introductory call between you (the seller) and the buyer.
7. Have Introductory Call With The Buyer And The Seller
We encourage the buyer to bring whatever questions they have after reviewing the CIM and the video to this call. This meeting will allow you to learn more about the buyer's background, capabilities, and their interest in the business.
The goal of this call is for you (the seller) and us (your advisor) to form an idea of if this buyer would ultimately be a good fit for your business.
MIDSTREET TIP
Make sure to ask questions of the buyer to see if they really are a good fit for the business. Think about your company culture, the buyer's expertise, and if they could integrate into your region.
8. Set Up In-Person Buyer-Seller Meeting
If the introductory call goes well between you and the buyer and you think they would be a good fit, we will set up an in-person buyer-seller meeting. This meeting will generally be held after hours at your place of business to allow the buyer to tour your facility and envision themselves operating the company.
This will likely be the last in-depth conversation you have with the buyer before they present an offer. The goal of this meeting is to give the buyer an opportunity to step in your shoes, better understand the operations, and build your confidence that they're the right fit for the business.
9. Seller Chooses From Prospective Offers
Once the buyer-seller meeting(s) are complete, we expect interested buyers to prepare and submit offers for your business in the form of letters of intent (LOI's). From these offers, you will make your choice based on the strongest offer from a buyer you feel most comfortable with.
You should be certain of whose offer you sign. Most offers require you to take the business off the market for the duration of due diligence. This gives buyers access to your business and delays any conversations you could be having with other buyers during this process.


How to Find the Best Buyer For Your Business
Now that you know how we vet prospects, you are better prepared for your role in the process. But don't worry - your broker will have many more tips and training sessions with you along the way to prepare before each stage.
That way, when it comes time for the virtual and in-person buyer-seller meetings, you are ready to ask buyers the questions you will need answers to in order to make your decision.
This blog is part of our "Working With MidStreet" series, where we break down how we do business in comparison to other brokers in the industry. Click here to see more topics just like this or contact us today!